Dental Crowns & Bridges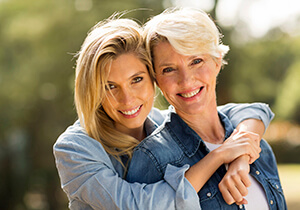 Tooth loss can be the result of severe tooth decay, advanced gum disease or a traumatic injury that knocks out a tooth. In the case of decay and gum disease, these cannot only cause tooth loss, but they may also be the result of tooth loss. In other words, people who have missing teeth are more inclined to develop decay and gum disease. Thus, the process can become a vicious cycle.
Furthermore, there are also general health and emotional consequences that come of having one or more missing teeth. Tooth loss can negatively impact diet and nutrition. Symptoms of temporomandibular joint disorder (TMD) may develop as a result of adjacent teeth that shift to take up the space of missing teeth. Speech can be impaired, and a person with missing teeth may be reluctant to smile or laugh. Thus, the importance of replacing missing teeth cannot be overstated.
A reliable and natural-looking tooth replacement option is a crown and bridge, which consists of two crowns that are mounted on healthy adjacent teeth in order to permanently hold the false teeth that bridge the gap of missing teeth. A bridge can be designed to replace one missing tooth, or several consecutive teeth when necessary. If you and Dr. Dilolli decide that a crown and bridge is the right prosthetic appliance for you, then you can soon look forward to having a fully restored smile that is not only aesthetically attractive, but healthier, too.
The Crown and Bridge Process
To make sure your crown and bridge fits comfortably and seamlessly alongside your other teeth, we will take a series of x-rays and molded impressions of the area in your mouth where there is tooth loss. Then, Dr. Dilolli will need to reduce the size of teeth that will have crowns. These abutment teeth, as they are called, must be healthy enough to support the crown and bridge. If they are decayed or broken, we can either build them up or replace them with dental implants to support a crown. Another impression is made once your abutment teeth or implants are prepared.
While our dental lab fabricates your permanent crown and bridge, we'll give you a temporary bridge to protect your teeth and gums. You'll return to our Herndon dental practice in a couple of weeks to have the permanent restoration fitted and cemented in to place.
If missing teeth are compromising your smile and threatening your oral and general health, then call Virginia Dentistry by Design to learn more about tooth replacement with crown and bridge. We conveniently serve patients in Herndon, VA, Reston and beyond.