General Dentistry Services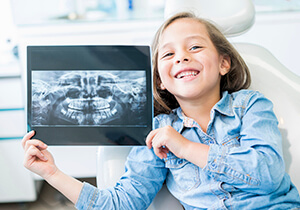 As your general dentist, Dr. Sonia Dilolli and her entire team are wholly committed to helping you and each member of your family enjoy a lifetime of healthy and happy smiles. To keep you smiling, we offer a complete menu of general dentistry services.
Dental Checkups & Teeth Cleanings
From the youngest member of your family to the eldest, everyone can benefit from bi-annual dental checkups with Dr. Dilolli, the dentist Reston turns to for comprehensive general dentistry. At these visits, we will clean and examine your teeth, assess the health of your gum tissue, conduct an oral cancer screening and when necessary, take digital x-rays in order to uncover any hidden problems, such as tooth decay between your teeth or an infection below the gum line. Scheduled regularly, these dental checkups allow Dr. Dilolli and her team to help you avoid problems to begin with or treat an existing problem quickly.
We also use these appointments to educate patients about the latest advances in dentistry that may be relevant to their care, as well as ways they can improve at-home oral hygiene routines. A checkup also gives you the opportunity to ask questions or bring up concerns you might have about your smile. Dr. Dilolli wants to be your trusted partner in helping you achieve the beautiful smile and outstanding oral health you deserve.
TMJ & Bruxism Therapy
Bruxism, or teeth grinding and clenching, can cause unusual wear to the biting surfaces of your teeth and even cracking within teeth. Because bruxism is often due to daily stress, anxiety and frustrations. Most people grind their teeth occasionally. Problems can arise, however, when bruxism becomes a habit that people are unaware mostly at night during sleep but during daytime as well. In this case, Herndon dentist Dr. Dilolli can prescribe an oral appliance known as a night guard or bite plate that protects teeth against the damage bruxism can cause.
Teeth grinding involves a sideways motion of the jaw that causes the surfaces of opposing teeth to rub together. Clenching occurs when your upper and lower teeth clamp together, may noticeably happen at moments of stress causing muscle fatigue. The cumulative effect of teeth grinding and clenching can cause damage to tooth enamel, the outermost surface of your teeth that is the hardest material in the human body. But even enamel will succumb to bruxism after time. In fact, among people who begin grinding and clenching their teeth at a young age, enamel may erode as much as two millimeters by the time they reach their mid-twenties; normally, enamel erodes about .3 millimeters every decade.
Although enamel erosion may not visible, other damage that bruxism causes can be evident and includes:
Teeth that are worn and flat, and thus may appear uneven giving an untimely "aged appearance"
Cracks and damage to fillings
Sensitive teeth, because enamel is worn and tooth dentin is exposed
Receding gums
Teeth that are made loose by the sideways motion of grinding
Headaches, jaw pain and other similar symptoms
Thus, the need to treat bruxism is obvious. When you come to Virginia Dentistry by Design for a dental checkup, Dr. Dilolli or one of our highly-trained hygienists will examine your teeth for these signs of bruxism. If found, we can design a custom-fitted night guard. Worn at night during sleep—or even during the day by some patients whose bruxism is particularly troublesome—this oral appliance places a comfortable yet hard acrylic barrier between your upper and lower arches of teeth. A night guard does not cure bruxism, but it does absorb the force of the grinding and clenching that would otherwise damage teeth.
If any of your teeth are showing the signs of grinding and clenching—or if someone else tells you that they've heard the telltale sound of grinding emanating from your mouth—then schedule an examination with Dr. Dilolli. With a night guard, you can spare your smile the damaging harm of bruxism.