United Healthcare Dentist
Affordable Dental Care Without the Hassle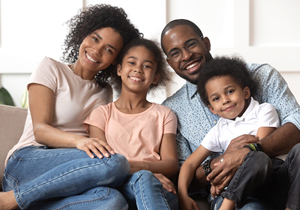 Good oral hygiene habits at home are crucial for a healthy smile, but high-quality dental care is just as important. Millions of people who don't have insurance often have a hard time affording dentistry, but with a United Healthcare dental plan, you can get the comprehensive care you need without the financial strain. And since your plan is geared towards preventing dental problems altogether, it helps minimize the major dental work you need in the long-run. Learn more below about how your plan works and the benefits of seeing a United Healthcare dental insurance dentist. And if you have any questions, give us a call anytime. Our experienced team is here to help!
United Healthcare Dental Coverage Availability & Fees
Each plan is different, so start by checking your individual benefits or just give us a call. In the meantime, here are some ballpark figures of what your United Healthcare PPO plan may cover:
80%-100% coverage for preventive care like cleanings, routine X-rays, and checkup exams
60% to 80% coverage for basic services like fillings and extractions
Around 50% coverage for more involved services such as crowns, bridges, and dentures
As you can see, routine checkups will cost you little to nothing out of pocket. These visits are designed to find and treat problems in their early stages, which helps you significantly reduce your dental bills.
Another great way to keep costs low is seeing an in-network United Healthcare dentist. While a PPO plan offers coverage for any dentist you choose, you'll spend significantly less out of pocket when you see Dr. Dilolli because she's negotiated fees that are around 30%-45% less.
Also, you can always count on our team to help you get the most out of your annual maximum. This is the total amount United Healthcare will pay for your dental work in your plan year and is often between $750 and $1,500 per person. Dr. Dilolli makes every effort to strategically plan your treatment to maximize these benefits and keep your costs low.
Meet Dr. Sonia Dilolli, Our United Healthcare Dental Insurance Expert
At Virginia Dentistry By Design, we're lucky to have a dentist who not only provides excellent clinical care but also knows the "ins and outs" of dental insurance. Her goal is to help you maintain a healthy, beautiful smile without blowing your budget.
We also believe that using your dental insurance shouldn't be a hassle. That's why Dr. Dilolli will help you understand and navigate your plan, as well as file your claims and any necessary paperwork. So, don't hesitate to reach out to us with any questions. We look forward to helping you get the most from your benefits!