Tooth-Colored Fillings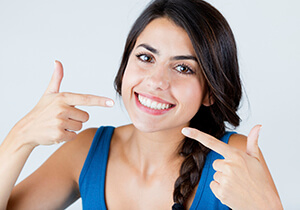 Dr. Dilolli and her staff understand that you'd rather not hear that you have a cavity. Of course, we'd also rather not need to deliver this news, but the fact is most people do experience some tooth decay over the course of a lifetime. Fortunately, a natural colored filling is a cosmetically pleasing way to restore your tooth's strength, function and appearance.
A cavity, also called dental caries, is the result of decay, which happens when the bacteria that naturally live in the mouth produce acids that begin to erode tooth enamel. These bacteria feed on sugars in the foods you eat and the beverages you drink. If these sugars aren't removed with regular brushing and flossing, then the bacteria thrive and generate acids.
Moreover, bacteria are particularly good at hiding in plaque, that sticky substance that forms in the mouth day in and day out. The acids produced by bacterial plaque eventually demineralize your tooth's enamel. This is the first stage of a cavity, which is actually a tiny hole in your enamel. Left untreated, this hole provides an entry for bacteria and acid to reach the next layer of a tooth—the dentin. Because dentin is not nearly as hard as enamel, this layer is far less resistant to the corrosive effects of acid.
Natural Colored Tooth Filling
If we find that you have a cavity—and these are discovered either by probing the teeth for soft spots or on a digital x-ray—then Dr. Dilolli will likely recommend restoring your tooth with a natural colored filling. Unlike amalgam fillings that are comprised of a mix of metals including silver, a natural colored filling is made of composite resins that are blended to match the color of your tooth. This type of filling not only offers the advantage of being far more aesthetically pleasing than an amalgam filling, but it also requires less tooth preparation. For you that means less drilling, and for conservative dentist Dr. Dilolli this means that more of the tooth's original structure is preserved. By retaining more natural tooth structure, the restored tooth is stronger and more durable.
Cavity Prevention Tips from Dr. Sonia Dilolli
To avoid the need for a natural colored filling, Dr. Dilolli offers the following cavity prevention tips:
Brush at least twice a day with a fluoride toothpaste
Floss at least one a day to remove plaque buildup between your teeth
Schedule regular dental checkups at least twice each year
Avoid too many snacks or drinks other than water throughout the day
Drink some tap water, which usually has added fluoride