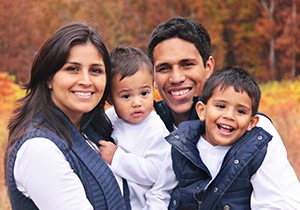 Do you and your loved ones have a dentist you actually look forward to visiting? Whether you just moved to the Reston area or if you have simply never found a dentist that makes you feel right at home, it's time for you to visit Virginia Dentistry by Design. Keep reading to find out why Dr. Sonia Dilolli is the dentist Reston trusts!
Quality Dental Care for the Entire Family
Your family's dental needs are as varied as your Friday night television viewing preferences. Your child's teeth, for example, are at a higher risk of cavities from the time they are 6 years old until age 14 or so -- and by then, orthodontics may be a big focus. Your own oral health needs, however, may include treatment for gum disease, replacing old dental work, or maybe even dental implants or dentures and partials.
Choosing a dentist that offers all these services (and more!) just makes life easier. Dr. Dilolli and her team offer comprehensive care to help you and your loved ones enjoy happy, healthy smiles for a lifetime to come.
Benefits of Excellent Dentistry
Visiting the dentist doesn't have to be a scary or stressful experience. Just ask anyone who has found a dental team they love and they'll tell you it can actually be downright enjoyable! High quality family dentistry like that provided by Dr. Dilolli offers a number of benefits. Some of the most significant include…
Comprehensive services found in one convenient location
No one-size-fits-all solutions, rather personalized treatment plans for each patient
A warm and friendly dental practice where everyone can feel comfortable
Care that's always got your best interest in mind
A clean, healthy, long-lasting smile!
Let's Start With Prevention
It's much easier to keep issues like tooth decay and gum disease from developing than it is to fix them afterwards -- and that's why we begin all treatment plans with a solid foundation in prevention. Six month checkups and cleanings should be a priority for patients of all ages. Dental sealants and fluoride treatments can provide additional help for children and cavity-prone adults.
With routine preventive care and regular brushing and flossing at home, you can feel confident knowing you're doing your part to fight cavities, gum disease, and other common oral health hazards.
Affordable Dentistry You Can Trust
Our office is pleased to work with dental insurance plans to help you maximize your benefits, and we are also in-network with Delta Dental.
People who do not have dental insurance can benefit from our in-house discount plan. For just $400 annually, you can receive all the preventive treatments you need as well as 20% off any major dental treatment. New patients can also take advantage of our free consultations, when we talk about orthodontics, cosmetic treatments, and anything else your smile may require. That's big savings to benefit your oral health -- and your wallet!
Come See Us This Month!
If you are busy searching for superior dentistry near Reston, don't wait any longer to visit Dr. Dilolli and the team at Virginia Dentistry by Design. We can't wait to help you and your loved ones smile for life! Go ahead and request an appointment online today.