Traditional Braces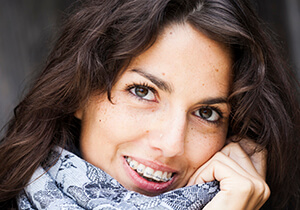 Although there are now several new options available for orthodontic treatment, we still believe that there are some patients who are best served by traditional orthodontics. Metal brackets and arch wires have proven reliable for correcting a number of complex cases, especially those that require correcting a malocclusion (bite problem) in addition to the aesthetic appearance of a patient's smile. Of course, traditional braces can also be the best option for treating teeth that are crowded, misaligned (crooked), protruding or irregularly spaced.
Dr. Dilolli is a Herndon dentist who is also trained to treat patients that need traditional orthodontics. This is advantageous for several reasons. First, what could be more convenient than having your family dentist also place your braces? You'll come to the same location for dental and orthodontic services. Furthermore, as your dentist, Dr. Dilolli is well-acquainted with you and your oral health history. You'll feel more comfortable and confident knowing that you're seeing a dentist who is already familiar with you!
Treatment Plan Custom-Made for You!
For both children and adults, Dr. Dilolli develops an individualized treatment plan that is tailor-made to treat your particular orthodontic needs. This plan is based on:
A visual examination of your mouth, teeth and occlusion, or bite
Facial and intraoral photos
X-rays, including panoramic, 3D Imaging.
Models of your teeth and bite that are made from impressions
Traditional Orthodontics Process
Once a plan is established, Dr. Dilolli will meet with you to explain how your treatment will proceed and approximately how long it will take. The average treatment time is two years. During the first year, the crowns of your teeth are repositioned; during the second year, the roots are moved to an upright and straight position.
Traditional braces consist of brackets that are adhesively bonded to your teeth and arch wires that thread through the brackets and are held in place by elastic ties. The arch wires apply pressure to your teeth in order to move them into their proper position. Every six to eight weeks, Dr. Dilolli will adjust your braces, thereby moving you closer and closer to your goal—a straight, beautiful and healthy smile!
An Invisible Alternative to Traditional Braces
For those of you who do not like the metal braces look, there is a cosmetic alternative- clear brackets: Invisalign® Clear Braces.
Contact to Learn More About Traditional Braces
If you would like more information about traditional braces for yourself or another family member, schedule a complimentary consultation with Dr. Dilolli. Our Herndon, VA, dental practice offers orthodontic treatment, as well as general, restorative and cosmetic dentistry.