Sedation Dentist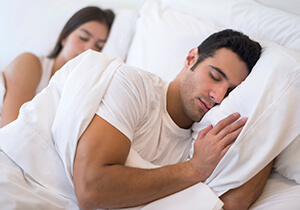 Does the thought of stepping into a dentist's office tie your stomach in knots? Would you rather put up with a toothache than endure the treatment necessary to relieve the pain? If you answered yes to these questions, then the team at Virginia Dentistry by Design is here to help you relax and have the dental care you need. With sedation dentistry, you will be serenely comfortable while we attend to your oral health needs.
Every year, millions of people delay or ignore long overdue dental care because they are fearful of the dentist and a dentist's office. For some, the fear is based on a long ago memory of a bad experience at the dentist, perhaps during childhood. For others, the sights and sounds in a dental practice are off-putting. Still others are plagued by claustrophobia and simply cannot bear the idea of having a masked dentist, hygienist or assistant so close. Regardless of the reason for such dental anxiety or fear, sedation dentistry can help alleviate your worries, so you can have the beautiful and healthy smile you deserve.
Nitrous Oxide
Dr. Dilolli and her staff are certified to provide two types of sedation dentistry. Nitrous oxide, otherwise known as laughing gas, is the one many patients are familiar with. For patients whose anxiety is mild to moderate, nitrous oxide can provide perfect relief. Patients inhale a measured dose of this gas and oxygen through a small mask placed over the nose during treatment. As you breathe in, a peaceful feeling of bliss will wash over your body. While you relax, Dr. Dilolli will be able to complete your needed dental care. When the mask is removed, the effects of nitrous oxide quickly wear off, so you can resume your normal daily activities
Oral Conscious Sedation
The next step up from nitrous oxide is oral conscious sedation. This offers a deeper level of relaxation for patients whose dental fear is more overwhelming. Dr. Dilolli will prescribe a single dose of an anti-anxiety medication that you'll take before your appointment in our Herndon dental practice. As the medication is absorbed, you will begin to feel deeply content and at ease. By the time you arrive for your appointment, you'll likely feel a bit drowsy. Many patients think they've slept through their treatment. Actually, you are awake throughout, but may not be able to recall what happened during your appointment.
With oral conscious sedation, you must have a family member or friend drive you to and from your appointment and keep an eye on you once you're home. For patients who have deep-seated dental phobia, we can call on an anesthesiologist to administer IV sedation.
Don't put off necessary dental treatment any longer. Virginia Dentistry by Design provides the sedation dentistry you need to have the healthy smile you deserve.