Invisalign® Clear Braces from Your Herndon Dentist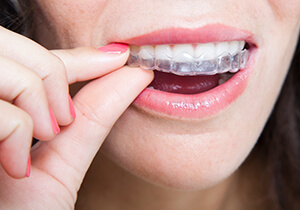 There are many components to a beautiful smile and having straight teeth is one very important key. People notice your smile, so you want yours to look as attractive as possible. Traditional braces, however, with metal brackets and wires, may not be a practical choice for some people who want to straighten their teeth. Both adults and teenagers may be self-conscious of their appearance while wearing traditional braces. Fortunately, there is an alternative.
What is Invisalign®?
Invisalign is an orthodontic system that uses clear plastic aligners to move teeth into alignment. Made of smooth BPA-free plastic, Invisalign aligners offer all the advantages of traditional braces, while being far less conspicuous. Moreover, Invisalign aligners are removable, so you will be able to eat all the foods you normally enjoy and you'll be able to brush and floss your teeth as usual, too. People wearing traditional braces must often curtail what they eat—no popcorn, gum or chewy candy—and proper oral hygiene may be difficult.
How Does Invisalign® Work?
As a certified Invisalign practitioner, Dr. Dilolli will be able to decide if you are a qualified candidate for Invisalign. Clear braces are now used for a variety of orthodontic cases that range from simple to complex. If she determines that Invisalign is right for you, then you may be only one year away from having straighter teeth!
The Invisalign process begins with a comprehensive collection of x-rays, digital photographs and molded impressions of your mouth and teeth. We'll ship these to the Invisalign lab where 3-D images are created. These images become the basis for your treatment plan that Dr. Dilolli will develop in conjunction with the lab. One of the many marvels of this technology is that you'll actually be able to see how your teeth will move even before you begin treatment. For many patients, this preview is very reassuring.
Using the treatment plan, Invisalign will manufacture your customized aligners, which will arrive in our Herndon dental practice. The aligners are sequentially arranged in a series of sets. All you have to do is wear each set in the series for about two weeks and then move on to the next. Dr. Dilolli will want to see you periodically to check your progress, but otherwise that's all there is to it. At the end of your treatment period, you'll have straight teeth for a more attractive smile