Invisalign® Clear Braces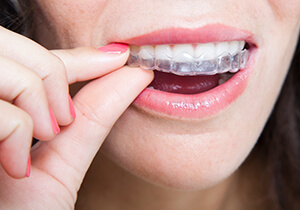 There are many components to a beautiful smile and having straight teeth is one very important key. People notice your smile, so you want yours to look as attractive as possible. Traditional braces, however, with metal brackets and wires, may not be a practical choice for some people who want to straighten their teeth. Both adults and teenagers may be self-conscious of their appearance while wearing traditional braces. Fortunately, there is an alternative.
What is Invisalign®?
Invisalign is an orthodontic system that uses clear plastic aligners to move teeth into alignment. Made of smooth BPA-free plastic, Invisalign aligners offer all the advantages of traditional braces, while being far less conspicuous. Moreover, Invisalign aligners are removable, so you will be able to eat all the foods you normally enjoy and you'll be able to brush and floss your teeth as usual, too. People wearing traditional braces must often curtail what they eat—no popcorn, gum or chewy candy—and proper oral hygiene may be difficult.
How Does Invisalign® Work?
As a certified Invisalign practitioner, Dr. Dilolli will be able to decide if you are a qualified candidate for Invisalign. Clear braces are now used for a variety of orthodontic cases that range from simple to complex. If she determines that Invisalign is right for you, then you may be only one year away from having straighter teeth!
The Invisalign process begins with a comprehensive collection of x-rays, digital photographs and molded impressions of your mouth and teeth. We'll ship these to the Invisalign lab where 3-D images are created. These images become the basis for your treatment plan that Dr. Dilolli will develop in conjunction with the lab. One of the many marvels of this technology is that you'll actually be able to see how your teeth will move even before you begin treatment. For many patients, this preview is very reassuring.
Using the treatment plan, Invisalign will manufacture your customized aligners, which will arrive in our Herndon dental practice. The aligners are sequentially arranged in a series of sets. All you have to do is wear each set in the series for about two weeks and then move on to the next. Dr. Dilolli will want to see you periodically to check your progress, but otherwise that's all there is to it. At the end of your treatment period, you'll have straight teeth for a more attractive smile
Invisalign FAQs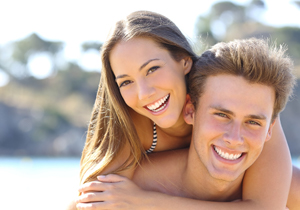 Making the decision to straighten your teeth means you are making an investment in your smile and overall health. Crooked teeth or bite alignment issues can be problematic when trying to eat, speak, bite, or chew. Fortunately, Invisalign can fix all these oral problems discreetly, so you won't have to worry about anyone noticing your aligners. As you prepare to begin treatment, you may have a few questions about the process. Dr. Dilolli has provided the answers to some of the most common frequently asked questions about Invisalign. If you still have concerns or additional questions, don't hesitate to contact our office!
Am I a Good Candidate for Invisalign?
While some dental offices only offer Invisalign to adults, Dr. Dilolli understands that teenagers, too, can be self-conscious about their appearance. Children and younger teenagers may not be eligible for Invisalign simply because their teeth have not finished growing. For older teens and adults, Invisalign is a great alternative to traditional braces, but they do require a level of commitment.
Aligners must be worn 20-22 hours each day and should only be removed when eating or drinking, or when you're cleaning them. Failure to follow the instructions laid out by your dentist in Herndon can delay your treatment.
Is Invisalign Painful?
In comparison to traditional braces, no, Invisalign is not painful. Metal braces require that you see your orthodontist every few weeks to have the wire adjusted. This forces your teeth to shift in the right direction and usually causes much pain. With Invisalign, you will not need to see your orthodontist as often, but it's important to keep your scheduled appointments to ensure progress is moving along smoothly and no problems are occurring. The good news is that there are no wires, so there's nothing that needs adjustment.
When switching to a new set, your teeth will gently shift closer to the desired results. This may cause minor discomfort, but it will dissipate quickly.
What Are the Benefits of Invisalign?
Your aligners are undetectable because they're clear.
They're removable, so you can enjoy all the foods you love without worrying about food getting stuck between wires and brackets.
The trays are easy to clean. Just use a toothbrush, clear soap, and lukewarm water to remove bacteria and any dried saliva.
Treatment time is less than traditional braces. The average timeline is between 12 and 18 months, in comparison to 2 or 3 years with metal braces.
There's no irritation with Invisalign. Brackets and wires can snag and rub against the soft tissues of your mouth, but Invisalign aligners are smooth.
How Do I Take Care of My Aligners?
If you prefer, you can opt for the Invisalign Cleaning System, which can be purchased through your dentist or online. Or, you can simply use warm water, a toothbrush, and clear soap. It's important never to use hot water on your aligners. It will warp the plastic.
Also, when removing your aligners to eat or drink, place them in a protective case. Should you accidentally drop them, they'll be protected.
What Do I Do if I Lose or Damage an Aligner?
Whether you lose or forgo the case and accidentally drop your aligner, damaging it, you need to call our office as soon as possible. It's important to keep your previous set of aligners in case Dr. Dilolli suggests wearing them in the interim. After assessing the situation, she will provide a recommendation for either moving forward with the next set or ordering a replacement aligner.