Dental Implants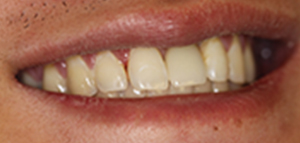 If you have a missing tooth, then you may be facing a number of challenges. First, there is the appearance of a gaping hole in your smile. You may also find that you are unable to eat certain foods, such as raw fruits and vegetable that are important to a healthy diet. Speaking may be more difficult and certain words may be harder to enunciate. Together, these challenges can add up to lowered self-esteem and confidence. With a dental implant, Dr. Dilolli can eliminate these challenges and give you back your whole smile.
How Do Dental Implants Work?
Fortunately, Dr. Dilolli is well-skilled in restoring smiles and replacing missing teeth with dental implants. By rebuilding your smile with a dental implant, we not only restore the portion of your tooth that's visible, but the segment below the gum that supports oral health and facial structure. A dental implant is comprised of a post that Dr. Dilolli surgically places in your jawbone. This post provides a firm foundation for a tooth restoration, such as a porcelain crown, as well as stimulation for healthy bone maintenance. After some time, Dr. Dilolli's dental implant patients report not being able to notice any difference between the dental implant tooth and their adjacent natural teeth.
Implant Supported Dentures and All-on-4
In addition to placing a dental implant to replace a single tooth, Dr. Dilolli uses implants to support dentures as well as fixed dentures known as All-on-4. In both of these cases, implants are strategically positioned along an arch. Then, the implants and your denture are securely connected, usually with a ball-and-socket type attachment. With All-on-4, only small four implants are required and you go home with a fixed denture. With implant supported over-dentures and All-on-4, you never have to worry about the embarrassment of your denture coming loose in public. And you can even sleep through the night with these comfortable dentures in place.
If you know that you need restorative dentistry treatment, or if it's been more than six months since your last dental checkup, then contact Virginia Dentistry by Design to schedule an appointment. We gladly welcome new patients from Herndon, Reston and the surrounding communities.
Benefits of Dental Implants
For patients with missing teeth, dental implants are the most lifelike tooth replacement option not only in terms of appearance but also function. A dental implant replaces both the crown of a missing tooth as well as the root. Other tooth replacements, such as dentures or partials, do not offer this advantage. By replacing the root of tooth as well as the crown, a dental implant provides a stable foundation for a functional tooth restoration. In addition, the implant performs the important function of promoting healthy bone tissue growth. Without a root in place, your jawbone begins to deteriorate, which can eventually lead to an altered facial appearance.
How Long Does the Dental Implant Process Take?
Receiving a dental implant usually requires two appointments with Dr. Dilolli usually scheduled about 3-6 months apart. At the first visit, minor oral surgery is performed to secure the implant in the bone. The implant is small titanium screw. Titanium is a biocompatible material, so the screw and your bone tissue seamlessly fuse together in a process called osseointegration. At the end of this appointment, Dr. Dilolli covers the implant with gum tissue and attaches a protective cover that allows the site to heal comfortably.
After your period of healing, you'll return to our office for the second appointment. Dr. Dilolli will uncover the implant and place an abutment on top. Your new custom-design tooth restoration—usually a porcelain crown—is attached to the abutment. The completed dental implant will be indistinguishable from your natural teeth. Moreover, a dental implant requires the same hygiene care as your other teeth. Just brush and floss daily and your dental implant will give you years of confident smiles and good oral health.
Dental Implant FAQs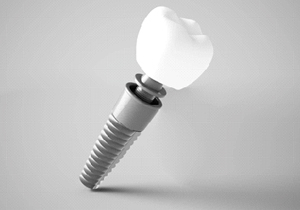 At Virginia Dentistry By Design, Dr. Sonia Dilolli loves seeing how dental implants improve her patients' lives. And with the advanced training, technology and experience to handle every step of the procedure, she's helped countless patients achieve outstanding oral health after tooth loss. To learn more about dental implants and what you can expect, keep reading for answers to several FAQs we often hear. And, as always, don't hesitate to get in touch if there's anything else you'd like to know!
What Happens If I Wait To Get Dental Implants?
After losing a tooth, there are various reasons to wait before getting dental implants. However, it's important to be aware that you begin losing jawbone density right away. Over time, you may not have enough bone left to support an implant. And while that doesn't necessarily mean you can't have the procedure done, you may need a bone graft first to strengthen your jaw before having an implant placed.
Is Dental Implant Surgery Painful and Is Sedation Necessary?
You'll be glad to know that getting a dental implant isn't nearly as painful as you might think. With that said, it is still considered a minor surgery, so some discomfort is to be expected. However, Dr. Dilolli will begin by fully numbing the area and making sure you're comfortable. We also offer sedation options so that even nervous or fearful patients can have the procedure done as comfortably as possible.
What Is the Recovery Process Like With Dental Implants?
For comparison, recovering after dental implants is somewhat easier than recovering after a tooth extraction. You'll likely have several days of tenderness and swelling, but it's well-managed with over-the-counter pain medication. We often recommend taking 1 or 2 days off of work to rest at home, so some of our patients schedule on a Thursday or Friday to minimize their time off.
Are Dental Implants Safe?
Yes – dental implants are made from the same material that's used in knee and hip replacements (bio-compatible, surgical-grade titanium). In addition, implants have an excellent track record of safety because they've been used for several decades to restore the smiles of countless people. In fact, an estimated 5 million dental implant procedures are now done every year, which speaks volumes about their safety and reliability.
What Are the Chances That My Dental Implant Will Be Successful?
Dental implants have a very high success rate of over 95% in non-smokers. Since that drops to around 85% in smokers, we recommend quitting tobacco beforehand. And while your implants can't get cavities the way natural teeth can, it's still crucial to keep the gum tissue around them healthy. That's why it's also important to see Dr. Dilolli for regular checkups and continue doing well with your oral hygiene habits.