Instant Orthodontics for Quick Results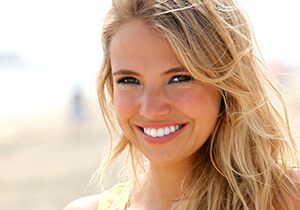 Normally, orthodontic treatment requires a few months to several years for the desired results to be achieved. So, how can any orthodontics be considered instant? Actually, instant orthodontics isn't orthodontics at all. For some patients, smiles can be more quickly and just as effectively improved with one or more cosmetic treatments. Rather than using braces to physically move teeth into alignment, Dr. Dilolli can combine dental bonding, porcelain veneers and crowns to give the appearance of straight teeth.
Affordable Alternatives to Traditional Orthodontics
Dr. Dilolli and her team at Virginia Dentistry by Design are committed to providing you with the best and most appropriate treatment possible. Furthermore, we always consider what you have to say—your smile goals and desires, your budget and time constraints. With these considerations in mind, Dr. Dilolli will assess your smile and make a recommendation that will set you on course to a more beautiful smile.
Dental Bonding
If you have one or two teeth that are slightly crooked, or maybe a few teeth with gaps in between them, then you do not necessarily need braces to align your teeth. Dr. Dilolli may be able to quickly reshape these teeth with dental bonding. This procedure uses composite resin materials to rebuild or reshape teeth that are marring your smile. The materials are precisely blended to match the natural color of your teeth and then skillfully applied and hardened with a special curing light. This process is repeated until Dr. Dilolli sees that you now have a well-aligned smile. The material is finally buffed and polished for a smooth finish.
Porcelain Veneers
Porcelain veneers may be appropriate if you not only have crooked teeth, but also have teeth that are chipped, cracked or broken. These dental wonders are affixed to the front side of your teeth in order to create a straight and aesthetically pleasing smile. Made of strong dental porcelain, veneers require Dr. Dilolli to remove a minimal amount of enamel. Once bonded to your teeth, porcelain veneers look as lifelike as your natural teeth, and with proper care can last for years.
Dental Crowns
Another option for repairing a misaligned smile is the placement of a crown. Ordinarily used to fully encapsulate a tooth damaged due to decay or injury, a crown can also make a rotated or misaligned tooth appear straight. Thus, rather than take the time and spend the money on braces, you may be able to have an aligned smile with only two appointments for a dental crown.