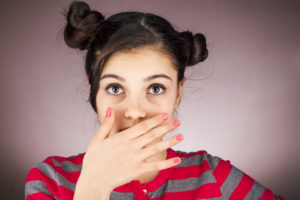 Bad breath is one of those conditions we don't like to talk about. While it might be embarrassing to tell someone close to you that their breath stinks, it's actually a good idea because bad breath is the early indicator of more serious oral health issues. Dr. Sonia Dilolli is your premiere Herndon dentist, and she's here to shed some light on the underlying causes of bad breath.
Periodontal Disease
Did you know that chronic halitosis, or bad breath, is one of the early indicators of periodontal (gum) disease? Gingivitis is the first stage of gum disease and if detected early on, you can effectively manage and sometimes even reverse gingivitis. It's in this stage that you might notice that:
You have bad breath that won't go away
Your gums are red and swollen
Your gums bleed when you brush your teeth
Now is the time to contact Dr. Dilolli at Virginia Dentistry by Design, because she can help you manage your condition with a thorough professional cleaning and improvements to your home care routine.
Periodontitis
Periodontitis is the advanced stage of gum disease. This is the stage where damage to your bone and teeth begins to occur. If left untreated, gum disease will cause bone and tooth loss. Treating periodontitis requires a deeper cleaning that reaches below the gum line. Depending on the severity of your gum disease, antibiotics and sometimes surgery may be necessary.
Regular Dental Check Ups
Prevention is the key when it comes to effectively managing gum disease, and this is why it's important to visit your dentist every six months, or twice per year. Dr. Dilolli can detect periodontal disease early on and it's much easier and less invasive to treat.
If you've been told that you have bad breath, instead of being embarrassed or offended, take heed! Contact your dentist right away and schedule a cleaning and check up to determine the cause of your halitosis. It could be your best chance of preventing gum disease from progressing.
At Virginia Dentistry by Design, we strive to be your partners in achieving and maintaining optimum oral health for a lifetime. We offer a full range of dental services in a warm and friendly environment. Don't let bad breath continue to plague your oral health. Contact us today to schedule your next appointment.