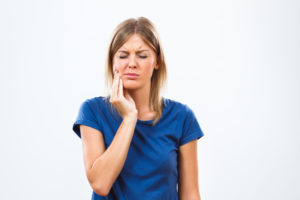 It starts off as a slight twinge or sensitivity when you're eating or drinking hot or cold foods or beverages. Since it goes away quickly, you don't worry too much about it. The next thing you know, you have a toothache that doesn't go away as easily, however ibuprofen still does the job for relief. If you've ignored the warning signs, you may be in for a big surprise when your tooth wakes you up at night with severe pain. If this scenario sounds familiar you should contact Dr. Sonia Dilolli right away and find out if a root canal in Herndon can help you.
When Do I Need a Root Canal?
When your tooth becomes injured or infected, the pulp of your root will need to be removed in order to preserve your tooth and remove the infection. There is often a lot of pain associated with injury or infection, which is why many people believe that root canals are painful. Root canal therapy however, actually removes the infection and in turn relieves your pain, while saving your tooth from an extraction.
What is Root Canal Therapy?
During a root canal, Dr. Dilolli will remove your infected or injured root through a small hole drilled in the top of your tooth. Once the infection is cleaned out, your tooth is sealed with a temporary filling and allowed to heal. After an appropriate healing period, your tooth will need to be built up and strengthened with a permanent filling or porcelain crown since it's not as strong after root canal therapy.
Does Root Canal Therapy Hurt?
Because it's your infection that's actually causing your pain, the use of dental anesthetics will both ensure that you don't feel anything during your procedure, and relieve your immediate pain. Most patients are pleasantly surprised at how smooth and comfortable root canal therapy in Herndon can be. Dr. Dilolli may recommend antibiotics after your root canal that will also help alleviate infection and pain.
If you're experiencing dental pain or sensitivity, even if it goes away, contact your trusted team at Virginia Dentistry By Design right away. It's important to note that a dental infection won't go away on its own. In fact, it will continue to get worse, your pain will become more severe, and you'll be at a greater risk for that infection to spread to other critical areas of the body. Contact us right away to be seen as soon as possible.