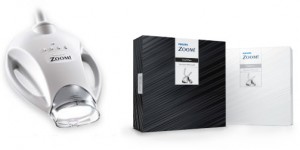 Zoom teeth whitening is a bleaching process used to lighten discolored teeth. Your teeth can become discolored from coffee, wine, tea, soda and smoking. Also as you get older your teeth naturally start to darken. With Zoom you can have a beautiful white smile again in no time.
The whole Zoom teeth whitening procedure takes less than an hour. It is recommended however to have you teeth cleaned before whitening. To begin the procedure your lips and gums are covered leaving the teeth exposed. The Zoom hydrogen peroxide whitening gel is then applied. This whitening gel works with the special Zoom light to penetrate the teeth and break up stains and discoloration. The gel stays on with the light for 15 minutes. There is a total of three 15 minute sessions for a total treatment time of 45 minutes. When the procedure is over a sensitivity reducing fluoride paste is applied to your teeth.
After the procedure is over you will be given an at home touch up kit with custom fitted whitening trays. To keep your teeth as white as possible after the procedure be sure to avoid foods and beverages that can stain your teeth.
Achieve a beautifully white smile today and call Dr. Abe Katz DDS of Virginia Dentistry by Design in Herndon, VA and ask about Zoom teeth whitening. A beautiful white smile is only a phone call away.
Accepting patients from Sterling, Reston, Ashburn, Wolf Trap, Chantilly and all surrounding areas.