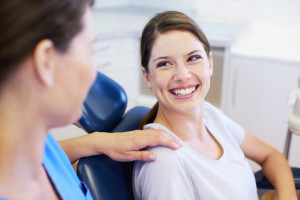 There are many beneficial reasons to visit a dentist. First and foremost is that your oral health is connected to your systemic health. Being proactive about your oral health definitely plays a role in your overall health and well-being. Regular screenings for oral cancer and periodontal disease mean that these diseases can often be caught in the early phases, which minimizes treatment in some cases. Here are four other reasons to regularly visit Dr. Sonia Dilolli, your Herndon dentist at Virginia Dentistry By Design.
Have a Professional Cleaning
When plaque is not removed regularly from your teeth it tends to build up causing tartar, decay and eventually periodontal, or gum disease. Tooth decay that's not treated will eventually lead to further damage, pain, and sometimes tooth loss. It's important to have your teeth checked for decay so you can protect your oral health.
Screen for Periodontal Disease
Gum disease can be sneaky because typically it progresses slowly, and there's no pain at first. If left untreated however, gum disease will eventually lead loss of gum tissue, teeth and jawbone. Early signs of periodontal disease include gum tissue that is red and swollen, and bleeds when you brush. You may also have bad breath, or notice an unpleasant taste in your mouth. Periodontal disease can also be an indicator of other health concerns, so it's important not to take this condition lightly.
Treatment of Decay or Damage
If it's been awhile since your last dental visit, you may have some concerns about your teeth. Dark spots on your teeth can indicate decay and if you're experiencing dental pain, it can be an indicator of infection. These conditions may require treatment. If your teeth are broken, chipped or fractured there are a number of options available to restore the function and appearance of your smile. Dr. Dilolli would love to discuss your goals and concerns about your oral health with you and together you will create a plan for your care.
Create a Relationship With Your Dentist
It's important to work with health care professionals that you trust. Building a relationship with your providers is the best way to stay on top of your health care. When your provider knows your past health history and understands your concerns, they can better help you meet your goals. You can rest assured that they have your best interests in mind, and this creates peace of mind for you.
At Virginia Dentistry By Design, we want to be your dentist in Herndon, VA. We proudly serve the cities of Sterling, Reston, Leesburg, Ashburn, Chantilly and the surrounding areas. We offer high quality dental care and treatment that is based on your needs; all of this is done in a comfortable and friendly environment. We welcome all ages at our practice from children to the elderly, and we don't judge if it's been awhile since your last dental appointment. Call us today, schedule your appointment, and come see why we're different