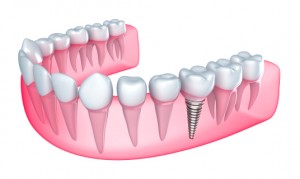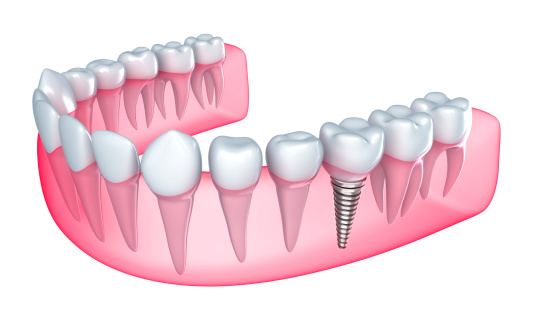 Missing teeth are more than a mere nuisance—they can be a genuine threat to your oral health, your general health and your emotional well-being. Just one missing tooth can cause other teeth to drift, which can affect your bite and may even lead to TMJ symptoms. Some people with missing teeth eliminate certain foods from their diets, because they are simply too difficult to chew. In addition, the knowledge that people see your missing teeth when you speak, eat or smile can naturally weigh heavy on someone's mind. So, for a variety of reasons, tooth replacement is advised. There are several viable options, but if you're looking for the one that is the most comfortable, the most natural looking and the most sturdy, then you'll want to choose dental implants. With dental implants, Herndon residents can enjoy the pleasures of a complete smile.

Dental Implants Reston and Herndon Residents Smile About
Dr. Dilolli is a skilled and experienced implant dentist, so you can feel confident that your implant(s) will look completely natural and feel secure and comfortable. In fact, many of Dr. Dilolli's patients forget they even have implants after a while.
What is a Dental Implant?
Although most people refer to the entire tooth replacement as a dental implant, the truth is that an implant is only the small post that is embedded in your jawbone and will eventually support a tooth restoration.
The implant, which is made of titanium—a biocompatible metal that the human readily accepts—is properly positioned in your jawbone to take full advantage of the bone's density. This creates a sturdy and stable foundation as the implant and surrounding bone tissue bond together to create a relationship not unlike the one between your jawbone and a natural tooth root. This relationship not only holds the implant firmly in place, it also prevents bone deterioration. Without a root or implant present, the bone no longer has a job to do, so to speak, so the tissue begins to atrophy. This can lead to a noticeable change in your facial structure and appearance.
After a few months when you've completely healed from your implant surgery, Dr. Dilolli will attach the tooth restoration—a custom made porcelain crown for a single implant or a partial or full denture for several implants designed to replace more than one missing tooth.
Call Our Office Today
You don't need to contend with the difficulties of missing teeth. Contact the office of Dr. Dilolli for more information about dental implants Herndon, VA, residents can count on for beautiful smiles. Our office also serves Sterling, Reston, Leesburg, Ashburn, Chantilly and the surrounding area.