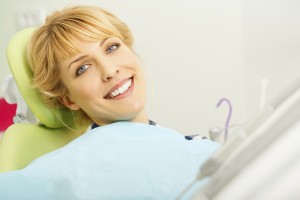 Let's chat about gum disease; clearly not one of the most popular topics to discuss, but an important one nevertheless. Consider the fact that a conservative estimate shows that upwards of 80 percent of American adults has some degree of periodontal disease. And while this is a disease that can be treated, it never be completed eradicated from your mouth. Therefore, once treated, vigilant oral hygiene is imperative in order to prevent the return of this smile-stealing infection. That's why Herndon dentist Dr. Dilolli wants to answer your questions about gum disease—so you'll have the information you need to win the battle.
What is gum disease?
Gum, or periodontal disease, is a bacterial infection of the soft tissue—your gums—and the underlying bone structure that support your teeth. The disease begins will plaque and tartar accumulation along your gum line. If not removed regularly with daily brushing and flossing, then the bacteria in plaque can lead to gum disease.
How is gum disease recognized?
Initially, gum disease may not show any outward signs, which is why dental checkups are so important. Our trained hygienists will measure the depth of gum pockets around your teeth, a leading indicator of periodontal disease. Other signs that you should be on the lookout for include:
• Gums that are red rather than pink
• Bleeding gums
• Persistent bad breath
• A partial or full Denture that no longer fits well
• Loose teeth
What are the consequences of gum disease?
As this disease progresses from gingivitis to periodontitis (the early and more advanced stages, respectively) the threat to your oral health increases. Ultimately, gum disease can lead to tooth loss. But beyond your mouth, gum disease has been linked to several bodily illnesses that can greatly compromise your overall health. Heart disease, stroke, diabetes, obesity, depression and pregnancy complications may all have a connection to the bacteria that causes gum disease.
How is gum disease treated?
In Herndon, periodontal therapy with Dr. Dilolli involves completely removing plaque and tartar from the surfaces of your teeth and from below the gum line. This is done with a treatment called scaling and root planing. Then, Dr. Dilolli may choose to further treat the infection with a topical antibiotic.
Call Our Office Today
If you are seeing any of the outward signs of periodontal disease, or if it's time to schedule a dental checkup, then call the office of Dr. Dilolli. We serve patients from throughout Herndon, VA, as well as Sterling, Reston, Leesburg, Ashburn, Chantilly and the surrounding areas.