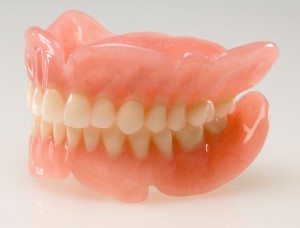 If you're suffering from tooth loss, you join more than 35 million adult Americans missing all of their teeth and more than 178 million missing one or more teeth. Once you've lost a tooth, your quality of life and oral health begin to decline. When a missing tooth is left untreated, you begin to lose bone density, which increases your risk for gum disease, tooth decay, and additional tooth loss. Not to mention, your ability to eat and speak without discomfort is impacted. Plus, your confidence level decreases due to an incomplete smile. Thankfully, you can quickly and affordable replace missing teeth with dentures in Herndon.

Benefits of Dentures in Herndon
Dentures are a simple, affordable, and convenient way to regain your quality of life and confidence with a complete smile. When you lose a tooth, your supporting bone structure is no longer stimulated. As a result, your bone and surrounding structures begin to deteriorate. Overtime, this causes your remaining teeth to begin to shift. As your teeth move, you become more prone to tooth decay and gum disease. Eventually, the lack of support and bone loss will cause additional teeth to fall out.
As the rate of deterioration begins to accelerate, your ability to eat and speak becomes more challenging. In some cases, the dietary restrictions from not being able to chew properly can cause malnutrition.
As you start losing your teeth, the missing tooth in your smile will cause you to feel self-conscious. Your self-esteem will further decline as your bone structure begins to destruct, causing your facial structures to change. You can develop sagging of the face and even sunken lips and cheeks.
Dentures in Reston and Herndon will resolve all of the complications you're facing with tooth loss. Dentures provide the support you need to decrease the acceleration of bone loss—preserving your remaining teeth and facial structures. Not to mention, you'll be able to eat and speak without any difficulty, thanks to a new complete smile.
Your Dentist for Dentures in Reston
Depending on your degree of tooth loss, we have many customized solutions for false teeth. If you're missing one or more teeth, we offer partial dentures to fill the missing space. For those who are missing all of their teeth on the top or bottom jaw, we offer full dentures to regain your quality of life and smile.
While many have thought dentures to look unattractive and fake, new advancements in dentistry now allow us to give you a more natural-looking smile with dentures. In addition to a more natural look, we can even provide a more custom fit for less slipping and discomfort.
At Virginia Dentistry, we offer the full and partial dentures you need to take control of your life with a complete smile. We'll treat your tooth loss using the prosthetic teeth so you can smile, speak, and eat with confidence. Let us help you regain your beautiful smile with dentures in Herndon. Call us today at (703) 991-0987 to schedule a consultation.