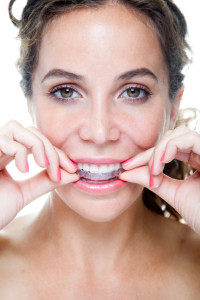 If you live with crooked or misaligned teeth, you understand how it affects your confidence every day. You may feel embarrassed or self-conscious about talking or smiling in front of others. What would it be like if you could smile freely without a second thought? Besides the effects on your confidence, did you know that misaligned teeth might also be affecting your oral health? Learn more about the health benefits of adult braces in Herndon.
Misaligned Teeth and Oral Health
Crooked teeth are harder to keep clean and you may experience greater plaque build up that will put you at a higher risk for gum disease and tooth decay. It can be more challenging to brush and floss properly when your teeth are misaligned.
A misaligned bite puts your teeth at risk for fractures and damage. It also may contribute to a jaw disorder known as TMJ that can cause painful headaches and neck pain. Straightening your teeth and correcting your bite benefits your oral health as well as your appearance.
Orthodontics
At Virginia Dentistry By Design, Dr. Sonia Dilolli has advanced training in orthodontics that allows her to correct bite issues and straighten teeth in the comfort of our Herndon office. Metal brackets and wires can correct complex cases in which your bite will be corrected as well as your teeth aligned, giving you optimum function. Most cases take around 12-24 months to complete and the result is a bite that functions correctly and a smile that is beautiful.
Invisalign
Instead of using traditional metal braces Invisalign utilizes clear plastic aligners that apply gentle pressure to gradually align your teeth. Because the aligners are clear they are virtually invisible and won't interfere with talking or smiling. Invisalign is a great way for busy adults who are concerned about the appearance of their teeth to straighten them discreetly, however it can't fix malocclusion, or bite issues the way that traditional orthodontics can.
Whether you need traditional braces, or you're considering updating your smile with Invisalign, we've got you covered at Virginia Dentistry By Design. Dr. Dilolli is trained to provide orthodontic care as well as being a certified Invisalign provider. With a thorough examination, x-rays, and models of your teeth, Dr. Dilolli will determine which option is right for you and create a plan to restore your bite and complete your smile. If you've struggled with misaligned teeth, contact our office today to learn more about how Dr. Dilolli can help you.