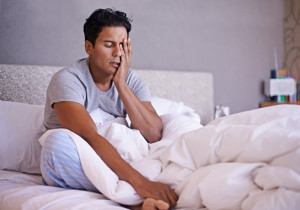 Morning headaches, a tender jaw, wear on your teeth, and fatigue are all signs that you have been clenching or grinding your teeth at night. Otherwise known as bruxism, clenching and grinding your teeth can cause many issues with your teeth, head, neck and shoulders. Did you know that bruxism could also contribute to a painful jaw joint disorder known as TMJ? If you grind your teeth at night, you need to learn more about bruxism in Herndon.
Signs of Bruxism
Because you're asleep, it may be hard to know if you're grinding your teeth at night, however there are some telltale signs. Bruxism may cause fractures, chipping or other damage to your teeth. Your dentist will be able determine if you have excess wear on your teeth.
You may also wake up with headaches, or a tender jaw if you're clenching and grinding your teeth at night. Your bed partner may also hear your grinding, as it can tend to be loud in severe cases.
How is Bruxism Treated?
Once your dentist determines that you have bruxism, they can make you a night guard that you wear while you're sleeping, much like a retainer. Your night guard is custom made to fit your teeth and protect them from the damage and wear of clenching and bruxism. Many patients who suffer from TMJ also find relief from wearing a night guard.
How Do I Know I Have Bruxism?
When you attend your regular cleaning and check up appointments twice per year your dentist will check your teeth and screen you for the signs of bruxism. This is why it's important to keep your check up appointments and visit your dentist regularly. If it's determined that you suffer from bruxism your dentist can discuss options for making a protective night guard for you.
If you think you may grind your teeth at night, Dr. Sonia Dilolli can help. With a thorough examination Dr. Dilolli will determine if a night guard is right for your needs. It's important to be proactive about your protecting your teeth if you clench and grind in order to avoid further damage to your teeth and jaw joint. Contact our office today to learn more about bruxism and how we can help you.