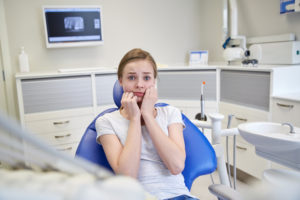 For some folks going to the dentist not only puts their stomachs in knots, it's downright terrifying! Many patients report that a negative past dental experience is the cause of their fear. Unfortunately, this can be enough to keep many people from getting much-needed dental treatment done. Dr. Sonia Dilolli and her team at Virginia Dentistry by Design are here to help. We've got you covered with sedation dentistry in Herndon.
Nitrous Oxide
Also known as laughing gas, nitrous oxide is a breathable gas that helps you feel more relaxed and at ease during your dental appointments by "taking the edge off" and leaving you with a feeling of happiness or euphoria. It's administered through a mask worn during your procedure, so it enters your system and works quickly to make you comfortable. Nitrous is safe for children and can even be used during cleaning and check up appointments. It also leaves your system quickly, which allows you to easily continue with your normal daily activities and drive yourself home.
Oral Conscious Sedation
For patients who need more assistance navigating their procedure than nitrous can provide, we offer oral conscious sedation. As the name implies, it's administered through a pill prescribed by Dr. Dilolli, and taken prior to your procedure. While you are still conscious and able to respond, you'll feel very relaxed and maybe even drowsy. Many patients feel like they've fallen asleep, and you'll also have little to no memory of what happened during your appointment.
Oral sedation requires that you have transportation arranged to and from your appointment, and you should plan on taking the rest of the day off, as the sedative wears off differently for every patient. This option works well for patients who have multiple procedures they'd like to complete during one appointment.
At Virginia Dentistry by Design, we never want fear or anxiety to keep our patients from getting the dental care they need and deserve. If oral sedation or nitrous oxide aren't sufficient in helping patients receive their treatment, we can discuss using an anesthesiologist to administer IV sedation. Your comfort is our top priority, and we're willing to do whatever it takes to help you get the dentistry you need. Contact our office today to learn more about sedation dentistry.