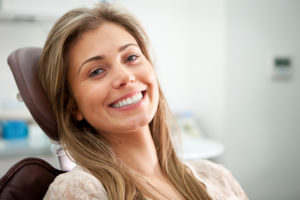 As we understand more about how oral health is related to overall health and well being, we know there's never been a more important time for you to take charge of it. Educating yourself about your dental care is also a good idea so you can be an active participant in your treatment decisions. At Virginia Dentistry by Design, we encourage our patients to learn more about their oral health, and here are 4 questions you should be asking your dentist in Reston.
How Often Should I Visit for Routine Care?
Your six-month cleaning and checkup appointments are truly your first line of defense in keeping issues like oral cancer, gum disease, and tooth decay at bay. For most patients, twice per year is sufficient.
If you struggle with gum disease however, there is unfortunately no cure. For this reason, Dr. Dilolli may recommend additional cleanings and checkups throughout the year in order to keep your condition under control.
Should I Worry About Excessive Wear on my Teeth?
It's natural that our teeth will wear over the years, however excessive wear can be an indicator of bigger problems. Many people who suffer from bruxism, or clenching and grinding their teeth, notice that their teeth are worn. This typically happens due to the force of the grinding and it can cause your teeth to fracture or breakdown. Dr. Dilolli checks for wear during your examinations and if it's a problem, she can discuss creating a night guard that you can put on at night while you sleep.
Do I Need X-rays? Are They Safe?
At Virginia Dentistry by Design, we recommend that you have x-rays taken at least once per year. We use digital x-rays, which allow us to see your images immediately for quicker diagnosis. They also emit 80% less radiation for our patients than traditional x-rays, making them a very safe choice. X-rays allow Dr. Dilolli see things internally and very early that may not be visible during a routine examination. This gives you the opportunity to be proactive and treat any issues with the least invasive methods available.
What can I do at Home to improve my Oral Health?
You are our greatest partner in maintaining your own oral health, and there are many things you can do to make the most of your home care routine such as:
Switching to an electric toothbrush
Adding an antibacterial mouth rinse to your routine
Eating more fruits and vegetables
Don't forget to floss
Contact our Office
We're always happy to answer any questions you may have about your oral health and the dentistry we offer. Give us a call today to learn more about your dentist near Reston.