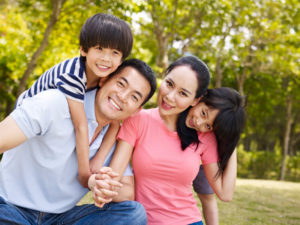 Finding an excellent health care provider who you can trust has your best interests in mind is priceless. This is even more important when you have children to think about. In fact, many patients may be willing to drive a bit further to see that trusted provider. The same can be said for your dentist, and we want to share with you why Dr. Sonia Dilolli is the Reston dentist that you can trust and rely on. Located just 10 minutes away in nearby Herndon, here are some of the comprehensive services you can expect to find at Virginia Dentistry By Design when you work with Dr. Dilolli.
Quality Dentistry for the Entire Family
At Virginia Dentistry By Design, we welcome patients of all ages to our practice. We enjoy seeing children and our goal is to create excellent dental experiences for them each and every time they visit us. We offer additional services for children including:
Dental sealants
Mouth guards for sports
Fluoride treatments
Orthodontics – Dr. Dilolli offers traditional braces and invisible braces, or Invisalign to both adults and children.
Adults will find a full range of services designed to meet their needs here at our office. You'll find that we rarely refer patients elsewhere for care.
Sedation Dentistry
Dr. Dilolli understands that dentistry is not comfortable for all patients, in fact, many people experience fear or anxiety about their dental care. Unfortunately, this keeps many patients from getting the dental care they need. For this reason, Dr. Dilolli offers two types of sedation dentistry that will help you relax and receive the dental treatments you need.
Nitrous oxide is a breathable gas designed to work quickly, help you feel at ease, and then leave your system quickly so you can resume your daily activities. Oral conscious sedation is administered through a pill that you take one hour prior to your appointment. While you'll still be responsive, most patients are completely relaxed and may even feel as if they're sleeping. You'll also have little to no memory of your dental procedure.
Comprehensive Dental Care
Dr. Dilolli is highly skilled and well equipped to handle most dental procedures here at our office including dental implants. While many dentists refer patients to an oral surgeon for implant placement, Dr. Dilolli's extensive training allows her to complete a dental implant, including surgical placement at our office from start to finish. It's a comfort for our patients to know they'll be working with the team they trust for their implant treatment.
Contact Virginia Dentistry By Design
We're proud to serve the patients of Herndon, Reston, and surrounding communities at Virginia Dentistry By Design. Contact our office today to schedule your next dental appointment. You'll be glad you found an excellent dentist near Reston!