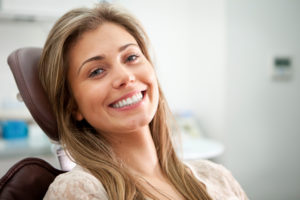 Knowledge is power! It's true even with your oral health. The more you know about your teeth and mouth, the better steps you'll take to improve your home care routine and make the right decisions about dental treatments that may benefit you. Here are some questions you should consider asking your Reston dentist at your next routine check-up.
How Often Should I Have a Dental Cleaning and Check-up?
For most adults, a routine visit every six-months will ensure that we're able to monitor your oral health and help you keep your teeth clean and healthy. These visits are important for detecting issues such as gum disease, tooth decay, and oral cancer, which are most successfully treated in their earliest stages. Children should also see the dentist for regular cleaning and check-ups every six-months.
Patients who struggle with periodontitis, or advanced gum disease may need to come in more often like 3-4 times per year to help keep their condition under control. Unfortunately, there is no cure for gum disease, but with the help of your dentist and hygiene team, you can successfully manage your condition.
Do I Need to Have X-rays? Are They Safe?
X-rays are an important diagnostic tool that Dr. Dilolli uses to see what's happening internally in your mouth. Many issues can't be detected early on with the naked eye, but can be seen on x-rays. It's important to update your x-rays once per year so we can monitor your oral health and make you aware of any concerns right away.
At Virginia Dentistry By Design, we use digital images, which emit 80% less radiation than traditional x-rays, and are readily available for review immediately. A clearer image allows Dr. Dilolli to more accurately diagnose certain issues so you can treat any concerns with the least invasive treatment.
Why Are My Teeth Sensitive?
Dental sensitivity can be caused by a number of different issues such as:
Gum recession
Decay or enamel breakdown
Teeth grinding, or bruxism
A broken or lost dental restoration
If your teeth feel sensitive, it's important to have it checked out and treated in a timely manner in order to avoid bigger and more costly issues. Dr. Dilolli will assess your condition and determine the best course of treatment based on the root of the problem and your specific needs.
Contact Virginia Dentistry By Design
Your dentist near Reston is always happy to answer any question you might have! Dr. Dilolli and her team proudly serve the patients of Herndon, Reston, and the surrounding communities with a wide range of comprehensive dental services. Give Virginia Dentistry By Design a call today to schedule your next appointment.