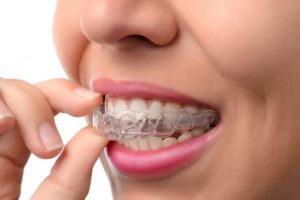 When you live with crooked teeth, it definitely affects your confidence. You may feel embarrassed about smiling for pictures or meeting someone new. When you're not satisfied with the appearance of your teeth, it's always on your mind. However, did you know that it's also affecting your oral health? The good news is that Invisalign in Reston may be the right solution for you and Dr. Sonia Dilolli can help you achieve the smile you've always wanted and optimum oral health!
Crooked Teeth and Oral Health
When your teeth overlap, they're much harder to keep clean with regular brushing and flossing. If you're not properly removing plaque buildup each day, it can lead to an increased risk of developing gum disease or tooth decay.
A misaligned bite can contribute to issues with your jaw joint such as TMD, or temporomandibular joint disorder. TMD causes painful headaches or migraines, as well as neck, shoulder, and facial pain. Straightening your teeth and aligning your bite help you achieve and maintain a beautiful and healthy smile.
Straighten Your Teeth With Discretion
Perhaps you've considered straightening your teeth, but you don't like the idea of wearing metal braces on your teeth? Invisalign is a great way to align your teeth with discretion because it utilizes clear plastic aligners instead of traditional brackets and wires. Aligners are worn at least 22 hours per day and changed every two weeks.
The benefit of Invisalign is that the aligners are removable, so they can be taken out for eating, brushing, and flossing, which means you can still enjoy all the foods you love and there are no changes required to maintain your home care routine. Because the aligners are clear, they're virtually invisible. They also fit snug, so overall, Invisalign is not noticeable.
Is Invisalign the Right Treatment for Me?
Dr. Dilolli offers comprehensive orthodontic treatment at Virginia Dentistry by Design. This means that she can determine if Invisalign is right for your needs and make recommendations for other treatment procedures if it's not. She'll perform a comprehensive exam and take x-rays and photos of your teeth. If you move forward with Invisalign, she can even show you what your completed smile will look like with advanced 3D technology!
Contact Virginia Dentistry by Design
There's no reason for you to hide your smile any longer when there are so many great options available to align your teeth and correct your bite. Give us a call today to schedule your consultation with Dr. Dilolli and learn more about the possibilities for your smile!