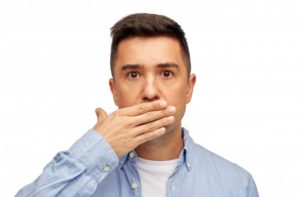 You used to think the gap in between your front teeth was cool. It made you stand out in photos and you felt unique. But lately you've been hiding your smile in photos, and you find yourself feeling more and more self conscious about the space between your teeth. The good news is that your cosmetic dentist in Reston has solutions and you may be surprised to learn that you have choices!
Invisalign
Invisalign is an innovative form of orthodontic treatment that can align your teeth with clear plastic aligners instead of metal brackets and wires. Aligners are a comfortable and discreet alternative to braces.
Since the aligners are clear, they're virtually invisible. They can also be removed easily, which means that they can be taken out for eating, brushing, and flossing. This means there are no restrictions to your diet or changes to your home care. Invisalign is also capable of aligning your teeth in 9 to 15 months for most patients.
Porcelain Veneers
Dental veneers are capable of adding dimension to your teeth or even changing their shape because they are designed to fit over your natural tooth. This feature can be used to fill in the space between your teeth. You can also choose a whiter shade to enhance the brightness of your smile.
Veneers can also cover a number of other imperfections such as small fractures, discoloration, excessive wear, and slight misalignment issues.
Patients who are not interested in spending time aligning their teeth with orthodontic treatment might be ideal candidates for porcelain veneers.
The First Step
The first step in determining which treatment is the right one for your needs is to schedule a consultation with your dentist in Reston. During your consultation, you can discuss your goals and desires for your smile so your dentist can help determine which treatment best suits your needs, lifestyle, and budget.
Don't let a gap in your teeth keep you from smiling your best smile any longer! Call your dentist to schedule your consultation today.
About the Author
Dr. Sonia Dilolli's passion is helping her patients smile with confidence, and one of her specialties if cosmetic dentistry. She's a certified Invisalign provider as well as capable of providing traditional orthodontic services. She also brings her artistry as well as her skills to the dental chair when helping to create your dream smile.
If you would like to contact Dr. Dilolli, you can call her at 703-991-0987 or reach her through her website.