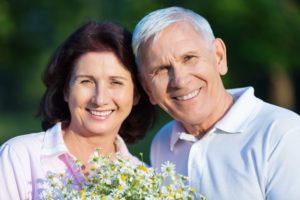 Living with multiple compromised teeth can be frustrating and devastating. Your nutrition suffers because you aren't able to properly chew the healthy foods you once enjoyed. Your self esteem suffers because you feel embarrassed about talking or smiling because of your smile. At this point, your situation can start to feel hopeless. However, you should know that there are solutions, and implant retained dentures in Herndon may be exactly what you need.
What are Implant Retained Dentures?
In many cases, dental implants can be used to support a denture. This process is known as "All-on-4" because it only takes 4 small implants to support a denture that can restore an entire arch of teeth. After 4 implants are strategically placed into your jawbone, your dentist will customize a denture that will attach to the implants, holding it securely in place.
Your denture is designed to complement your skin tone and facial structure so they truly provide an esthetically appealing appearance. Because of the security the implants provide, you won't have to worry about movement or slippage when you are talking or eating.
The Benefits of All-on-4
Besides a more stable fit, implant supported dentures offer many other benefits. The implants work to keep your jawbone healthy and stimulated, which prevents the bone loss that occurs with tooth loss.
Bone loss is often accelerated by traditional dentures, which are removable and rely on suction to stay in place. Less bone loss means that your implant supported dentures will provide greater longevity.
Am I a Candidate for All-on-4 Dentures?
If you would like to learn more about implant supported dentures, the first step is to schedule a consultation with your dentist. They will perform a thorough examination and take x-rays to determine if All-on-4 is the right treatment for you. If you are not a candidate for implant supported dentures, your dentist can discuss other options that may suit your needs.
Don't let compromised teeth hold you back from living any longer! Give your dentist a call today to schedule a consultation and learn more about the options available for your smile.
About the Author
Dr. Sonia Dilolli provides comprehensive dental care to patients in Herndon and the surrounding communities in VA. Patients can complete implant dentistry including procedures such as All-on-4 from start to finish in the comfort of our office.
If you would like to contact Dr. Dilolli, she can be reached online through her website or by calling 703-478-9574.