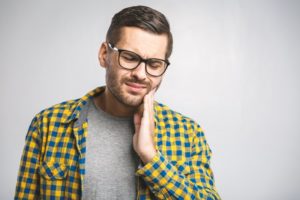 Enjoying your favorite sandwich for lunch quickly takes a turn for the worst when you find yourself with a cracked tooth! Your tooth feels sensitive even though it seems to be intact, so you contact your emergency dentist in Reston and you feel relief when they are able to see you that same afternoon. Here are some of the solutions your dentist may offer and why you've found yourself in this situation.
Why Did My Tooth Crack?
There are a few reasons why your tooth may have cracked including:
• Excessive clenching or grinding, also called bruxism, that usually takes place at night
• Decay inside your tooth
• An accident or trauma to your tooth
• A large restoration that has weakened your tooth structure
When your tooth cracks, even if it doesn't completely break, you should still contact your dentist as a compromised tooth may allow bacteria into the pulp or nerve of the tooth, which can cause an infection.
If your tooth is broken, it's important to contact your dentist right away as your root may be exposed and will cause pain.
Treating a Cracked Tooth
Your dentist will determine the best treatment for your tooth after assessing your situation. If your tooth is not broken, a simple dental filling may be able to repair it. If your tooth is broken, a dental crown may be able to restore your tooth.
A severely broken tooth may require endodontic treatment, or root canal therapy, to eliminate bacteria and infection from inside your tooth. Then it will be strengthened with a dental crown.
If the crack is extensive and extends into the root of your tooth, an extraction may be necessary in order to protect your oral health.
The important thing is to act quickly and contact your dentist in Reston right away if you have a tooth that is cracked or sensitive because it may mean the difference between saving and losing a tooth.
About the Author
Dr. Sonia Dilolli leads the team at Virginia Dentistry By Design. Her advanced training and expertise allow her to offer comprehensive services designed to meet all of your dental needs. If you are experiencing a dental emergency or you have a cracked tooth, Dr. Dilolli makes every effort to see emergency patients as soon as possible.
If you would like to contact Dr. Dilolli, she can be reached through her website or by calling 703-478-9574.