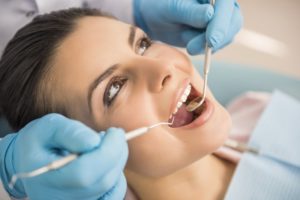 If you've been waiting to get that filling or crown done that your dentist recommended, now is the ideal time to schedule your appointment. Scheduling treatment now ensures that you maximize your Herndon dental insurance benefits to their fullest for 2018. This is what you should know before the year ends.
How to Maximize Your Dental Insurance Before the End of 2018!
While each dental plan is unique, most of them run on a calendar year, meaning that your benefit ends in December and renews in January. Most plans have a maximum amount of dollars they will pay during your benefit year and it typically ranges from $1000 to $2000 dollars. These dollars, unfortunately, don't roll over into 2019's benefit, so if you don't use those dollars by the end of December, you will lose them.
If you have any outstanding treatment that needs to be done, fall is the ideal time to schedule your procedure with your Herndon Aetna dentist to ensure you maximize those benefit dollars used before the end of 2018.
Have You Scheduled All of Your Cleanings and Checkups for 2018?
It is typical for dental insurance plans to cover preventive appointments at 100%. This means that there is virtually no out-of-pocket cost to you for your cleanings and checkups. These appointments are an integral part of helping you maintain your oral health; and they also help you avoid bigger and more costly problems like tooth decay, cavities, and gum disease.
Have you had two cleaning and checkup appointments this year? If you haven't, it's a good idea to schedule a visit with your Herndon Delta Dental dentist now and take advantage of your benefits since there is little out-of-pocket cost to you even if your teeth are feeling comfortable right now because surprisingly, most dental concerns cause little to no pain in the beginning.
Don't Have Dental Insurance?
If you don't have dental insurance, never fea! Dr. Sonia Dilolli offers a convenient In-House Discount Plan that allows you to save on preventive services and common restorative services for one low annual fee.
Our discount plan makes it affordable and easy for you to get the treatment you need without the waiting periods or coverage limitations that you would frequently experience with traditional dental insurance.
Contact Dr. Dilolli to learn more.
About Virginia Dentistry By Design
Dr. Sonia Dilolli provides patients in Herndon, VA with the comprehensive and compassionate dental care she believes they deserve. Patients enjoy the extensive array of services they receive in a warm and friendly environment.
If you would like to contact Virginia Dentistry By Design, Dr. Dilolli can be reached by calling 703-478-9574 or through her website.