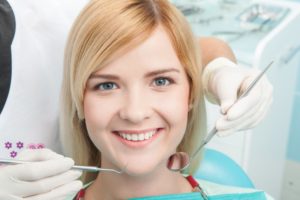 When it comes to your healthcare, you want to work with top providers who you know have your best interests at heart. But how do you find these providers? Who can you entrust your health to? When it comes to your dentist, one of the highest honors they can achieve is to earn a Fellowship from the Academy of General Dentistry (AGD). Only 6% of dentists in the U.S. and Canada have earned their AGD Fellowship (FAGD) because of the commitment and dedication it takes. Here's what you should know about your FAGD dentist in Herndon.
Meet Dr. Sonia Dilolli
Dr. Sonia Dilolli has always been dedicated to providing the highest quality dental care to her patients. It shows in the extensive training she's completed in order to be able to offer comprehensive services such as implant dentistry from start to finish and full orthodontics at her Herndon, VA dental practice Virginia Dentistry By Design.
Dr. Dilolli is proud to take her commitment one step further by becoming a Fellow with the AGD!
What Does it Take to Become an FAGD Dentist?
In order to become a Fellow, a dentist must complete these AGD requirements:
• Maintain current membership with the AGD for three years
• Complete 500 hours of approved continuing education
• Pass the AGD Fellowship examination
These stringent requirements show the dedication that it takes to achieve this prestigious honor. Dr. Dilolli understands that completing continuing education courses allows her to serve her patients at the highest level, and her Fellowship award exhibits this commitment to her patients.
What Can You Expect as a Patient at Virginia Dentistry By Design?
When you choose Virginia Dentistry By Design, you can expect that all of your needs will be met under one roof. This is because Dr. Dilolli provides a wide array of services for both adults and children that goes beyond what you will find at other dental practices.
You will also find a comfortable and welcoming environment where our team strives to meet your needs where you're at in comfortable and judgement-free manner.
If you're looking for a dentist in Herndon, we encourage you to contact Virginia Dentistry By Design to learn more about Dr. Dilolli and the exceptional service she provides.
About Virginia Dentistry By Design
Would you like to experience dentistry in new way? Would you like to work with a dentist who is committed to serving your unique needs? Look no further than Dr. Sonia Dilolli and her team at Virginia Dentistry By Design. As an FAGD dentist, Dr. Dilolli has dedicated herself to serving her patients with excellence.
If you would like to contact Dr. Dilolli, she can be reached by calling 703-478-9574 or through her website.