March is National Nutrition Month! While you probably hear all the time how a balanced diet is good for your body and your overall health, did you know that it's also essential for your dental health? It's true! The foods you eat and beverages you drink play an integral role your oral health, and sometimes in ways that might surprise you. Here's what you should know.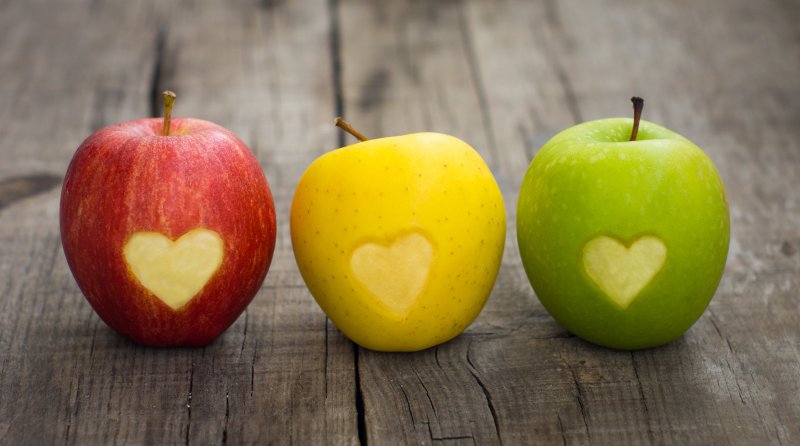 Sugar and Your Dental Health
Most of us are aware of the damaging effects sugar has on our dental health. Did you know that it's not actually sugar that is harmful, but rather the chain of events that sugar promotes?
Sugar is actually the fuel for the bacteria that live in your mouth. The byproduct they produce from consuming sugar is acid. It is acid that erodes and destroys tooth enamel causing tooth decay and cavities. You can protect your teeth from the damaging effects of sugar by limiting your consumption of sugary foods and beverages.
The Surprising Effects of Fruits and Vegetables
If you find yourself reaching for an afternoon snack, try eating fruits and vegetables instead of chips or crackers. You may be surprised to learn that incorporating more fruits and veggies into your diet can actually protect your teeth from tooth decay!
Fruits and vegetables neutralize the acids in your mouth that cause cavities. They also increase saliva flow, which helps to wash away food particles and debris that tend to linger in your mouth. Choosing fruits and veggies for snacks and meals promotes good oral health.
Key Nutrients Are Important
Selecting foods with the right nutrients such as leafy green veggies, fish, nuts, and chicken helps protect your teeth and the health of your gums. Patients who struggle with managing gum disease may find their condition is intensified with poor food choices.
Stay Away From Hard or Sticky Foods
Eating gummy or sticky treats combines both sugar and candy that sticks to your teeth and lingers much longer than it should. This means that the sugar has a much better chance of causing tooth decay. Sticky foods can also potentially cause problems by pulling off dental crowns or fillings that are protecting your teeth.
Biting into hard foods can also cause fractures or chipping to your teeth. Taking the time to cut foods like crusty bread, apples, or carrots into bite size pieces can protect your teeth from harm.
Preventive dentistry is an excellent way to ensure that your teeth are healthy and safe from concerns like tooth decay and cavities. Your dentist can detect tooth decay early on ensuring that you have the best chance of dealing with it in the least invasive manner.
Contact your dentist today if you have questions or if it's time to schedule your next appointment.
About the Author?
Are you looking for an excellent dentist in Herndon, VA who provides comprehensive services? Would you like to work with a dentist who has your best interests in mind? Look no further than Dr. Sonia Dilolli at Virginia Dentistry By Design. Dr. Dilolli provides all the dental services you need to maintain optimum dental health and even some specialized care that you may not find at other practices.
You can contact Dr. Dilolli online or by calling (703) 478-9574.