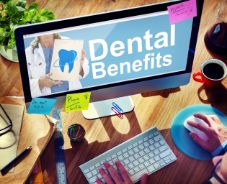 If someone told you that you were losing $900 a year over a simple scheduling error, you'd probably feel pretty irritated. Unfortunately, it could be true! The American Dental Association found that the average insurance benefit is an annual $1,250 per person, but that most people only use around $323. That's over $900 each person could be using for dental care that's simply gone, and one of the main reasons is failing to schedule early enough in the year. Also, there's a common misconception that insurance rolls over, but it's actually a "use it or lose it" situation. And since everyone needs high-quality dental care for a healthy smile, you may as well use it! Keep reading to learn some interesting facts about dental insurance and how you can get the most from your plan.
Statistics About Dental Insurance
According to Dr. James Stephens, president of the California Dental Association, every $1 spent on preventive dental care saves an estimated $50 on more complicated procedures like dental crowns and root canals.
Hospital emergency rooms treat more than 2 million dental emergencies each year. Most of these visits are from uninsured patients who aren't getting regular checkups.
Around 1 in 4 Americans (approximately 74 million) don't have dental insurance.
The average annual maximum (the amount your insurance company will pay for your dental procedures each year) is between $750 and $1,500. According to the National Association of Dental Plans, less than 3% of people with PPO plans reach or exceed their annual maximum each year.
Tips To Maximize Your Insurance Benefits
First, remember that dental insurance is designed with prevention in mind. The majority of plans cover checkups and cleanings at 100%, so they'll cost you little to nothing out of pocket. This not only gives you an incentive to schedule these visits, but also allows a dentist to find problems when they're small, preventing major dental work down the road.
With that in mind, double check your plan to see when it starts and ends (most plans end December 31st and begin January 1st). From there, schedule a checkup and cleaning as soon as possible. In the event that you need additional dental work, you'll have plenty of time to schedule it. And, in some cases, a dentist can overlap your appointments from one year to the next to strategically lower your out of pocket costs.
Ultimately, regular dental care is a must for healthy teeth and gums, self-confidence, and a good quality of life. Sadly, many people struggle to afford it because they don't have dental insurance. If you're one of the lucky ones who does, you're in a great position to achieve a healthy smile at a greatly reduced cost.
About the Author
Dr. Sonia Dilolli is a family dentist and a graduate of Texas A&M Baylor College. In an effort to make dentistry as affordable as possible, she accepts most major PPO plans and is in-network with Delta Dental and Aetna. Her practice has room in their schedule to see new patients before the year ends and always tries to accommodate as many people as possible. If you have any questions about insurance, she can be reached through her website.